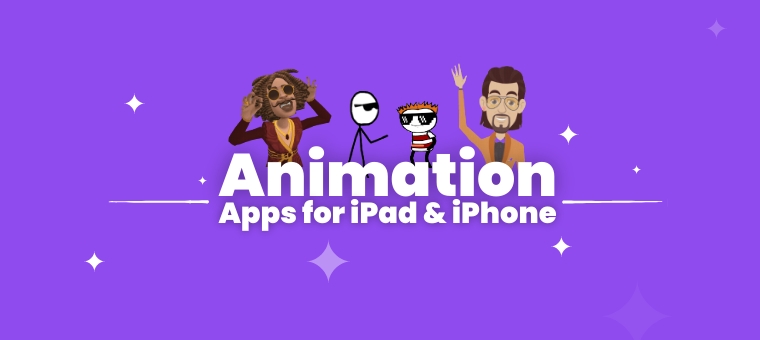 Attention iOS Users!
Creating an animation is fun and exciting. With it, any individual can bring their ideas to life, no matter how fanciful they may be.
There are no boundaries or constraints. The opportunities are truly limitless in animation.
For example, you can use it to
- Create Animated Characters,
- Design Vibrant Landscapes,
- Animate Objects,
And loads more!
But here's the challenge.
Creating an animated video on your mobile may not be as easy as making one using a laptop or computer.
Only a few apps on the appstore support creating animated videos, and most in the list charge a fee to use it.
Now, if you are new to animation, you may feel nervous and uncertain about investing in something you are not familiar with.
Therefore, you might wonder whether any free animation apps are available for iPads and iPhones.
Short answer. Yes, there is!
We have analyzed the finest animation apps for iPad and iPhone that are available for free and selected the seven best apps that you will find most user-friendly.
So here is the list!
And to further help you find the right app, we have divided the animation apps into two categories.
A) Apt for Beginners – Ideal for individuals new to animation.
B) Apt for Advanced Beginners – Ideal for individuals with some animation experience.
So let's get started.
A)Apt for Beginners
When you're starting out on creating your first animation, three major factors influence the making process, which are
- The App's Ease of Use
- Tool Constraints
- Features Availablity
With these in mind, we have narrowed the selection to four top animation apps specifically designed for beginners exploring the field of animation.
On the top of the list is,
1)Animaker Animation Video Maker
Download Animaker Animation Video Maker Here!
Animaker Animation Video Maker is a subsidiary of Animaker Inc. The parent company is a pioneer in the industry, which has gained the confidence of more than 20 million animation users in recent years.
1.1)Features
Animaker stands apart from other apps by providing access to a significant portion of its features in the Free Plan, granting users the ability to utilize at least 8 out of the 10 features available in the Animation Suite.
You can use it to
A) Create your own avatar.
B) Choose from 50+ Prebuild Characters.
C) Detail Your Scene with 70k+ props.
D) Add Animation Presets with a tap.
E) Choose and add a music track to your videos.
F) Add Special Effects.
G) Add Transition Effects.
1.2)Pros
- It is the only video maker app enabling users to generate animated characters.
- You can apply preset animations rather than stressing out about manually creating motion.
- The majority of the features are available for free.
- Massive collection of animation templates, preset shapes, and popular music tracks.
1.3)Cons
- Absence of the voiceover function.
- Watermarked video downloads
2)Tweencraft
Download Tweencraft Here!
Tweencraft has become one of the most preferred apps for meme creators and short video makers today. Users frequently rely on it to share witty content on Instagram Reels, YouTube Shorts, and other formats suitable for short videos.
2.1) Features Gist
Tweencraft offers assistance for creating videos in two different styles.
- Comic Strip and
- 2D Animation
The library features many characters, including well-known superheroes, that will captivate your interest. Nevertheless, your choices may be constrained as a Free Plan user.
Source: www.TweenCraft.com
Tweencraft has different character emotions that you can choose and easily apply. However, there are no preset animations that you can add to your character.
So you have to manually move the character's arms, legs, heads, eyes, and other body parts to the desired position, which can be challenging.
One special feature that sets this app apart is its character voiceover. It transforms your recorded voice uniquely based on the character you choose.
2.2)Pros
- The app is available in multiple languages – English, Hindi, Japanese, Spanish, Portuguese, Korean, etc.
- The only app that has a collection of famous celebrities and superhero characters that you can add and animate.
- A stand-out voice modulator.
2.3)Cons
- The selection of characters and backgrounds to choose from is extremely limited.
- Challenging to animate characters without preset animations.
- Watermarked Downloads.
- Does not contain templates.
- Can't upload your own media & animate it.
3)Plotagon Story
Download Plotagon Story Here!
Plotagon Story is a hidden gem for making animated videos, particularly when it comes to creating your own characters and animating them. It provides everything you need to craft a captivating 3D animation video.
3.1)Features Gist
Plotagon Story powers amateurs to create movie-like 3D animations.'
The interface might initially appear difficult to navigate, so you might need to invest a few minutes to comprehend its functionalities.
Also, a noteworthy distinction between Plotagon's interface and other apps is that you cannot directly modify the character or any other elements on the canvas. Instead, you can only choose from a set of preset options.
Compared to its competitors, the prebuilt character choices & customizations are limited in Plotagon.
It might be the ideal platform if you're looking to create a conversational animated video, as the AI voice feature is a standout.
3.2)Pros
- Powers to create 3D Animated Videos with ease.
- Compared to its competitors, it has the largest collection of character expressions to animate your characters.
- The Text-To-Speech voiceover feature is more human-like than any other similar app in the market.
- It is the only app with an auto-selected camera angle feature to make scenes look even more engaging.
3.3)Cons
- Very Limited Character Collection.
- Watermarked Video Downloads.
- No Template Collection.
- You cannot upload and animate your own files (images & videos).
- Lengthy Video Ads.
4)Renderforest Video & Animation
Download Renderforest Video & Animation Here!
The Renderforest Video & Animation app is highly rated in the Appstore for creating videos. It is one of the few apps that can be accessed through the Web and mobile (iOS & Android).
4.1)Features
Renderforest can help you create high-quality animation videos.
It offers a combination of 2D and 3D animated characters, which is not common among other apps.
Using it is quite simple. Animation templates are readily accessible on the Dashboard. Alternatively, you have the option to start a video project from scratch.
However, here's the catch. If you are using the Free Plan, you may not have the option to choose a video template that exceeds 1 minute in duration, which makes the template option very limited.
Renderforest facilitates video-making through the assembly of pre-made scenes.
Simply select a scene that meets your needs and insert your own content.
You won't be able to reposition the character or the text on the scene (workspace). You can utilize the pre-made scenes as they are.
So, if you're looking to create a simple animated video, the app will be quite user-friendly. On the other hand, if you have a script and wish to describe your scene intricately, it may present some difficulty.
4.2)Pros
- One of the very limited apps that provide 3D characters.
- A huge collection of premade scenes to choose from.
4.3)Cons
- The Free Plan offers very limited access. Roughly 2 out of 5 options available are restricted for Free Plan users.
- You cannot detail your animation.
- Scene selection can be exhaustive.
B.Apt for Advanced Beginners
If you're interested in making an animated video with a frame-by-frame approach, then this section is for you.
The following apps are suited for individuals with some animation background and are willing to devote time and effort to draw and construct animations gradually.
So, let's take a look at the list!
5)FlipaClip
Download Flipaclip Here!
FlipaClip is a renowned app in the field of frame-by-frame animation creation. It has gained a significant following among animation enthusiasts all over the globe.
5.1)Features Gist
Creating frame-by-frame animations can be a time-consuming process.
So Flipaclip has done its best to support its users with clear tutorials and a quite simple& easy interface.
In case you find it difficult to create a video and rather begin with a template, there are a couple of demo templates available for you to learn from and practice on.
You won't be able to find any preset shapes to help you with the making process. However, you can use the rulers (available on the canvas) to assist you with creating basic shapes.
If you're planning to add voiceovers or music tracks, Flipaclip gives you two options.
You can either record in the app.
Or watch an ad to upload your audio track.
You can also upload your pictures and videos by watching ads as well.
5.2)Pros
- Compared to other video-making apps, the interface of this one is the easiest to use.
- The app is loaded with handy tutorials.
- Has handy tools such as rulers and grids to facilitate the fast drawing of shapes.
5.3)Cons
- Very limited templates.
- No preset shapes.
- Contains Ads.
6)Picsart Animator
Download Picsart Animator Here!

Picsart Animator is a subsidiary of the popular photo and video editing market leader, Picsart. With a trustworthy reputation and a massive user base, Picsart Animator has successfully positioned itself as one of the leading apps for editing pictures and videos on both iOS and Android platforms.
6.1)Features Gist
The Picsart Animator app is a versatile animation tool that includes a unique AI feature.
There are three different purposes for which you can utilize the app.
That is,
- To create frame-by-frame Animations.
- To transform your picture into smiley faces (utilizing the AI function).
- To draw and animate over photos.
When it comes to frame-by-frame animation, Picsart Animator has a slight edge over its rivals as it offers preset shapes that make it convenient for creating animations. You can also use various brush strokes to draw and add details to your scenes.
The most impressive feature of the app is its AI feature. It has the ability to transform any image into an outlined smiley face.
6.2)Pros
-Handy tools(brush strokes and shape presets) that help you detail your animation with ease.
-Unlike its competitors, Picsart offers basic templates to assist users with creating animations.
-It is not restricted solely to frame-by-frame animation; you can also employ it to animate images.
-Even if you are using the Free Plan, you have the ability to design personalized photo smileys with the help of the AI feature.
6.3)Cons
- Watermarked Downloads.
-Cannot zoom into the workspace to detail your scene.
7)Animation Desk
Download Animation Desk Here!
Animation Desk is one of the most compact frame-by-frame animation tools available on the App Store. It is a division of Kdan Mobile, a global SaaS provider with over 12 million active users.
7.1)Features Gist
Animation Desk has numerous useful tutorials and onscreen instructions, making it very handy for beginners.
You might find it challenging to understand the interface at first, as the animation tools on the canvas (workspace) are only depicted by icons. So you might need to spend some time exploring the canvas.
A single frame can be divided into multiple layers (similar to "Layers" in Adobe Photoshop). This allows more detailed animation creation.
You also have the option to upload various types of multimedia (such as photos, videos, GIFs, and PSD files) and make edits to them.
The rulers and grids help you quickly create shapes.
In case you're looking to add music, you only have the option to upload your own. It has no music collection.
Perhaps the biggest challenge in the app is that you won't be able to add text to your video in the Free Plan.
7.2)Pros
- Detailed Animation – Multi-layer frame-by-frame animation.
- Unlike other competitors, you can upload GIFs and PSD files and animate them.
- It is one of the few apps that has handy tutorials and onscreen instructions.
7.3)Cons
- Unavailability of text in the Free Plan.
- The workspace is challenging to understand as it contains only icons.
- Watermarked downloads.
And that's all! We have reached the conclusion of the list.
This is a breakdown of the app's key animation features for comparison.
I hope you found this helpful. In case you know any other animation apps for iPad and iPhone users that you believe deserve recognition, please leave a comment below.
Happy Animating!